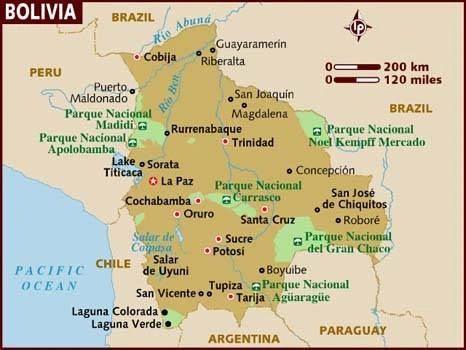 Bolivia
March each year


Map curtsey of Lonely Planet
We continue to work in Bolivia each March. Our clinics are located within the Amanacer Orphanage system. Local dentists work in some of the clinics between visits from our dentists, so some care is provided throughout the year. A screening clinic is done the day before the actual dental clinic is run. During the screening, we identify and document patients with the most serious need. On clinic days there are many needs to be met in addition to the dental care. The children have to be identified and located, brought to the clinic, have their appointment purpose explained to them. Afterwards, they are given some amount of after-care to ensure that they do not injure themselves by biting Novocaine numbed tissue.
Most of our patients are children, but at times care is given to people who are in desperate and urgent need. Such a group of women were presented to us this year. These women make their living from foraging any re-usable items they can find from the dump. None had ever seen a dentist before, and they had no money to visit a clinic other than ours. The visit was quite an ordeal for them, because in addition to the stress of going to their first-ever dental appointment, they had to be talked into giving up their meager income for the day because of the appointment. We did our best to make this up to them with some clothing, food, dental supplies, and personal hygiene items.
In the orphanages, toothbrushes are hard to come by, and are actually kept locked up by the staff until needed daily. Basic personal hygiene items such as combs are bingo prizes to be won. These children really do not have anything that they take for granted.
There is a large number (20,000) of homeless children in Cochabamba. Word got out that a dental group was in the hotel. One evening, two little street children came into the lobby, very insistent on talking to the "dentistas." It turned out that they wanted two toothbrushes. These two little children had passed by an armed guard at the entrance of the hotel into an environment very foreign to them, approached adults inside the lobby that they had never met before and asked us very politely not for a toy or money, but for a healthcare item.
Preparing For Travel to Bolivia
Visas and Passports:
Passport must be valid for entire duration of stay and through the date of return to the U.S.
Make a photocopy of your passport. You will need to carry a copy of your passport on you at all times when in Bolivia.
Visas are required for citizens of U.S. or Canada.
The Hotel Diplomat has a safe deposit box for safe storage of your original passport and other valuables.
Immunizations
Altitude
Cochabamba is 8,304 feet above sea level. Some people experience less energy for a few days after arriving. Expect to do less physical labor than you are accustomed to. Eat lightly the first day, stay hydrated and rested. Aspirin with a cup of coca tea or Coca-Cola every 6 to 8 hours will help alleviate symptoms of altitude sickness. Alcoholic beverages are twice as strong at this altitude, so use alcohol with caution.

Symptoms of altitude sickness include increased respiration and heart rate, headaches, difficulty sleeping, lack of appetite, minor gastric and intestinal upsets.
Customs and Donations

A request for duty-free passage of our donations must be obtained 5 weeks in advance of our arrival.
A detailed list of things you will be donating at least 5 1/2 weeks prior to departure.
Honesty is the best policy when entering and/or leaving any country, especially the U.S. Each person is allowed $1,000.00 worth of duty-free goods going into Bolivia and $600.00 worth of duty-free goods when leaving Bolivia.
Do not volunteer more information than is requested
Participants will be briefed regarding Customs procedures and should be prepared to unpack their luggage, especially upon returning to Miami.
Prevention of Illness
Water is often a source of illness. For best protection, participants should drink bottled or boiled water. Bottled water is provided by the hotel, and additional bottled water can always be purchased.
Do not drink or brush your teeth with tap water.
Avoid eating foods that are not peeled, cooked, or bottled.
All food at the Hotel Diplomat should be safe.
Ask your physician about antibiotics for travelers' diarrhea, and have a prescription filled in case you get ill.
If you become dehydrated, you can purchase "sales de rehidracion" at the drugstore to restore electrolytes.
Money, Travelers Checks and Credit Cards
Money belts that go around your neck or abdomen are advised.
Travelers checks can be cashed at the desk at the Hotel Diplomat.
ATM machines are readily available.
Credit cards are well accepted, with Visa being the most widely accepted.
Keep in mind that pickpockets are common in crowded places.
Electricity:

Bolivia's electrical current is 220 volts and 50 cycles. Converters can be used for 110- volt personal care appliances. Some of the the bathrooms in the Hotel Diplomat rooms have a 110 volt outlet.

Additional information:

See Dentsems detailed Travel Tips document at:

http://www.dentsem.com/docs/Tips.pdf

The Department of State provides information to assist travelers in better understanding foreign countries they may visit and the known risks that they should consider.

See the Consular Information Sheet for information about Bolivia

http://travel.state.gov/travel/cis_pa_tw/cis/cis_1069.html



What to pack for Bolivia
Useful items for yourself
Remember, Bolivia is very close to the equator and the sun is very intense, even on cloudy days.
Hand sanitizer is a MUST HAVE. Carry it with you at all times. It will prevent illness.
Cotton handkerchiefs comes in handy. (Paper towels/Kleenex not readily available.)
Sunglasses
Protective clothing: SPF shirts, hats etc...
Sunscreen
Bug spray if you are going outside of the city at all.
Fancy clothing is not necessary. The environment is such that you will want to launder clothing frequently, so bring things that can take hotel laundering.
Comfortable walking shoes (closed toe and not too nice) The outdoor markets are unsanitary and muddy when wet.
English-Spanish pocket dictionary
Ambien, to sleep on the plane. It can also help you get back on a sleep schedule.
Antibiotics for travelers diarrhea (hope not to need them, but be prepared in case of illness).
Earplugs for plane and hotel. Some rooms overlook a street where music plays late into the night.
Eye cover for the plane and hotel.
Protein or sport bars of some sort are good to carry for between meals.
Dried fruit, nuts and/or trail mix to snack on.
Water bottle, although a small bottle can be purchased at hotel and refilled for daily use.
Emergen-C vitamin and mineral packets (Can find at Trader Joes and probably other stores).
Carry a small amount of toilet paper with you at all times. South American public restrooms do not supply it.
Things the orphans like to receive
The children enjoy getting stickers of any shape,size,theme.
Beanie babies, but check with Smile Power to see if a bin is already being shipped before taking more.
Toothbrushes are needed everywhere we go.
Bubbles are always loved. The kids take turns blowing bubbles into the air with the applicators.
Mostly they want your attention. Be prepared to hold them and play with them. They get little one-on-one time with adults.
Things the orphanage administration likes to receive for the kids
Combs for Bingo prizes.

Books are expensive in Bolivia: any and all English/Spanish grammar workbooks

are sought.

Spanish language story books are always welcome at the orphanage

s.