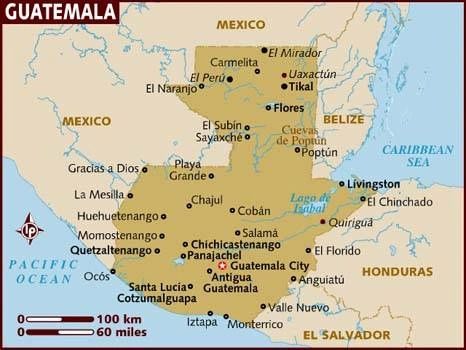 The safety of our volunteers is a top priority. This trip will be rescheduled when conditions are deemed safer. Please check back.
Guatemala
To be rescheduled



map curtsey of lonelyplanet.com

We will return to partner with group who has been offering some health care since 2009 in the remote jungle areas near Poptun Petren (about an hour from Tikal). The health care providers currently offer basic health care, midwifery, herbal medicines and limited dentistry – mostly preventative care. We will work with Kek'chi Indians and Ladinos. Many live in remote Aldeas where there are no clinics and many dental needs. You will love the people.
We are looking to stay at a lovely "Ecological Hotel" where shared rooms are about $50 night.

Previous ISP trip in May 2005:
We have partnered with the AGROS to deliver much needed dental services to the village at the end of the road in the IXIL Mountains. It was necessary to take everything needed into the village.
Our energetic triage "office managers" cheerfully guided patients who had not heard of dentists before our arrival, into the clinic for care. Our wonderful volunteer team worked into the evening to see every person who desired care. The volunteers remain cheerful, describing these long hot days in the clinic as a wonderful experience.
About Guatemala
Area: 91,136 sq. mi
Population: 14,300,000
Ethnic groups:Mestizo (mixed Spanish-Indian) 55%, Amerindian 43%Languages: Spanish, 24 indigenous languages (principally Kiche, Kaqchikel, Q'eqchi, and Mam)
80% of the population is poor.

Life expectancy: Men 64 yrs., Women 66 yrs.
Guatemala has 2 seasons, the dry season (from mid August thru April) and the wet season (from May to mid August).
The old Mayan Indian empire flourished in Guatemala for over 1000 years before arrival of the Spanish and today more than half of Guatemalans are descendants of indigenous Mayan peoples.
In 1524 Guatamala became a Spanish colony for nearly 300 years,until 1821. It then became a part of Mexico for a short time, after which it was part of the federation of United Providences of Central America. She became her own republic in 1939. Guatemala has had her share of political unrest and a variety of military and civilian govornments have been punctuated with various violent episodes. Over the years 200,000 people have been killed or disappeared and are presumed dead.
For more information about the Guatemala, the State Department web site has good information to help you start your search.

The need for dental care is huge.
Smile Power at Work in Guatemala




Volunteers in Guatemala


Smile Power working in the clinic

Photos of Guatemalan Life
Women wearing traditional clothing
| | | |
| --- | --- | --- |
| | | |
| | | Life in the city. |
| | | |
| A group of boys pose for camera. | | A group of girls pose for a photo. |
A group of children wearing traditional clothing.
Photos of Guatemalan Landscape

2 children with the
beautiful Guatamalan
countryside as a backdrop.
| | | |
| --- | --- | --- |
| | | |
| | | Dirt streets prevail. |
| | | |
| --- | --- | --- |
| | | |
| | | Kids out in countryside. |